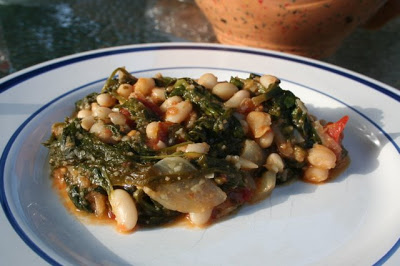 I love legumes. Packed with protein, nutrients and best of all, my kids will eat them!
Now that local Spring veggies are in season, judias blancas con espinaca is a great dish to use up that Spinach. Enjoy

Judias Blancas Con Espinaca (Spinach and Beans)
Ingredients:
1 cup Great Northern White Beans (Or Garbanzos or Cannellini) soaked overnight.
Extra Virgin Olive Oil
1 Slice Bread
1 onion, chopped
1 can Organic diced tomato's
a good pinch of Paprika, (Preferrably, Spanish Paprika, Pimenton)
1 lb Spinach
3 garlic cloves
Kosher Salt
Method:
Drain the beans, place in a saucepan and cover with water. Bring to a boil, cover and simmer for about 1 hour until the beans are tender. Drain.
Heat 3 tbl EVOO in a frying pan and fry the bread until golden brown. Transfer to a plate.
Saute the onion in the remaining EVOO (Add a little more if you need to) over low heat until soft but not brown, then add the tomato's and continue cooking over low heat.
In a large pan, add 3 tbl EVOO and stir in the paprika. Add the spinach. Cover and cook for a few minutes until the spinach has wilted.
Add the onion and tomato mixture to the spinach, mix well and stir in the beans.
Place the garlic and fried bread in a food processor and process until smooth. Stir in the spinach and bean mixture.
Add 2/3 cup water and cover and simmer gently for 20-30 minutes, adding more water if necessary.
http://www.myhumblekitchen.com/2009/05/mondays-with-mami-chicharos-con/
©Copyright, A Little Bit of Spain in Iowa