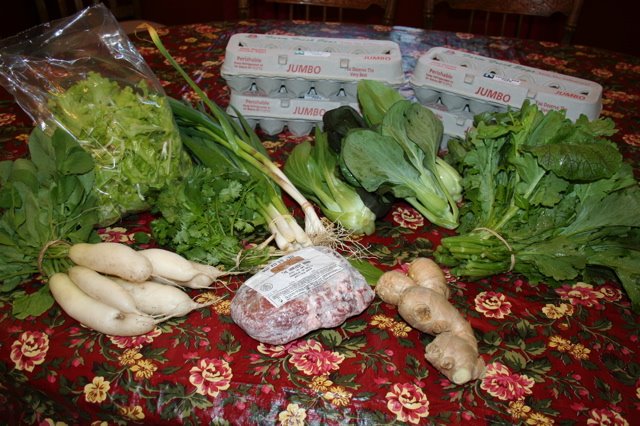 I found such great Spring greens at this past Saturday's Downtown Farmers Market. Everything fresh, local and chemical free! Radishes, Pak Choi from Blue Gate Farm. I also found locally grown ginger root, cilantro, mustard greens, lettuce, green onions and my favorite find of the day, green garlic. Garlic that has not yet bulbed!
All of these fresh greens and ginger root were calling for something Asian inspired – mixed greens with ginger!
Mixed greens with ginger. A great side dish to enjoy during the cooler seasons.
Ingredients:
1 large bunch of mustard greens
1 leek
1 pak choi
2 garlic cloves
2 tbl. extra virgin olive oil
1 tbl. soy sauce
1tbl. ginger
Kosher salt and freshly ground pepper
2 apples
1 tbl. butter
1 tbl. raw sugar
1 green garlic to garnish
Method:
Peel and dice apples. In a medium skillet, melt butter and add apples. Sprinkle with raw sugar and cook until soft and slightly carmalized. Place in a dish and set aside.
Cut mustard greens, leek, and pak choi into 1/2 inch slices. Soak in water and rinse well to remove any dirt.
In the same skillet heat 2 tbl. EVOO. Saute garlic and ginger for a minute. Add chopped greens, leeks and bok choy until wilted. Add soy sauce, cooked apples, salt and pepper to taste and simmer for 10 minutes.
Top with sliced green garlic to garnish
http://www.myhumblekitchen.com/2009/05/mondays-with-mami-mixed-greens-with/
©Copyright, A Little Bit of Spain in Iowa